As a business owner and a marketer, you've probably heard the saying "content is king." This adage is no longer applicable to just written content anymore. Digital marketing has come a long way since the introduction of visual marketing by YouTube and social media platforms. Today, a one-minute video is better than a wordy blog post, and nearly 50% of viewers take action after viewing it. As a result, marketers are now adopting promo video makers as their primary digital marketing tool.  But with so many options to choose from online, how do you choose? We've made this easier for you with our 5 sites to help you make your first promo video.
Here are our top picks of sites to help you make your first promo video:
1.     Promo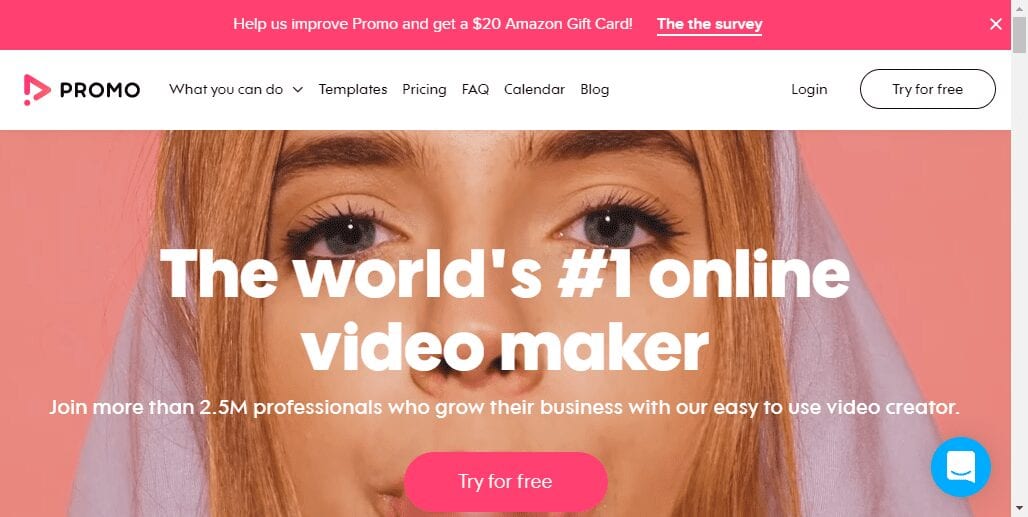 Promo is a promo video maker that provides marketers with tools and content to create customizable short clips and ads for business promotion across social media platforms. You can find over 12 million video clips and templates from different categories, including real estate, food, retail and commerce, education, and travel.  You can edit these videos with music, custom text, and even add your business logos. Other useful features or tools include a social media calendar, image resizer, Facebook video covers, and free online collage maker.
Pricing
Basic – $49 per month
Standard – $99 per month
Pro – $359 per month
2.     Ripl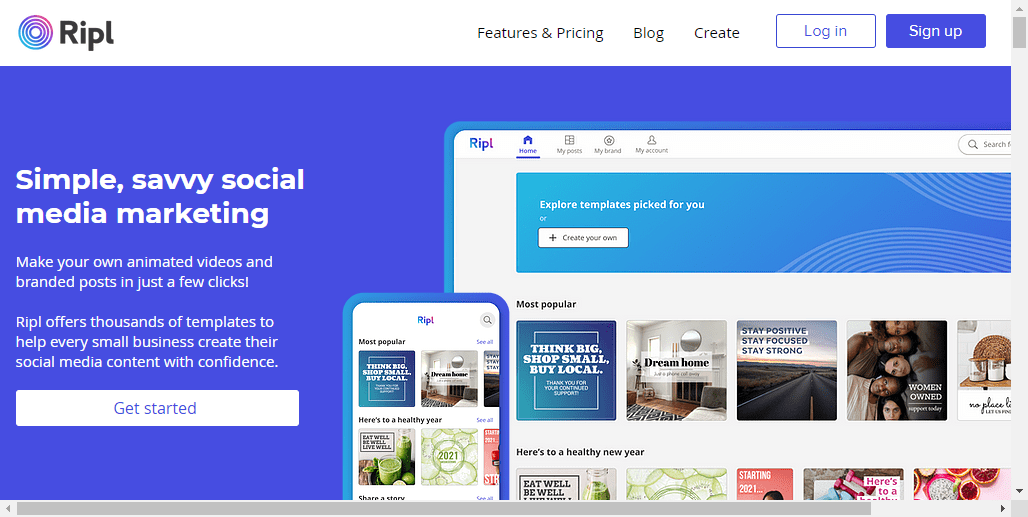 Ripl is among the most popular promo video makers in the market today. You can use it to create branded animated videos and posts using thousands of templates, stock images and videos, and customizable fonts, colors, and logos. Other features include post tracking and monitoring across all social media channels from a single platform. You can schedule and share posts to all your business platforms simultaneously.
Pricing
Free Trial – Up to 7 days
Monthly – $14.99 per month
Yearly = $119 per year
3.     Animoto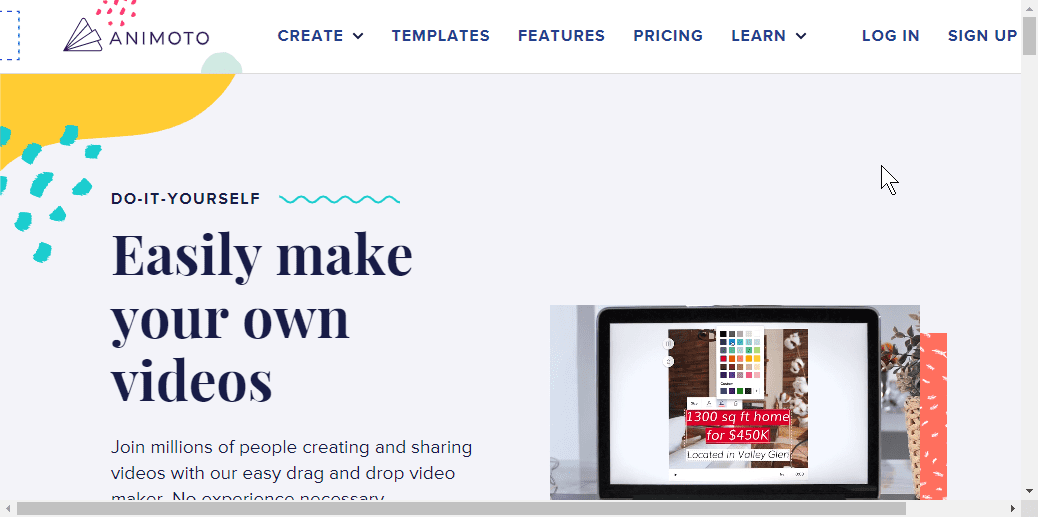 Animoto specializes in promo videos for a new product or business launch, portfolio promotion, and bite-sized product introductions. The promo video maker is popular across several industries, particularly eCommerce and retail, real estate, fitness, and other business offering multiple products.
Its main features and tools include a stock library with over 1 million photos and video clips, customizable colors, text, and animations, and a dedicated music library.
Pricing
Free – Includes standard features with Animoto branding
Professional – $15 per month
Team – $39 per month
4.     Vyond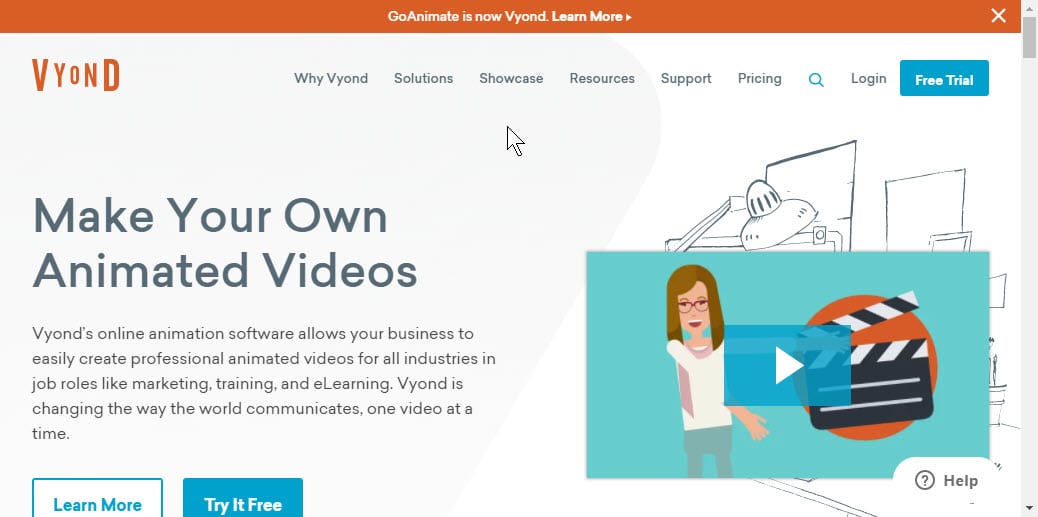 Vyond is an excellent tool for creating promo videos. With several features, including preconfigured templates, character animations, video, and audio clips, businesses generally use it to send animated welcome emails, social media promotions, explainer videos, customer testimonials, and corporate training and culture videos. Other tools include automatic lip-sync, social sharing, and personalized customization for several industries.
Pricing
Essential – $299 per year
Premium – $649 per year
Professional – $999 per year
Enterprise – Custom pricing
5.     Powtoon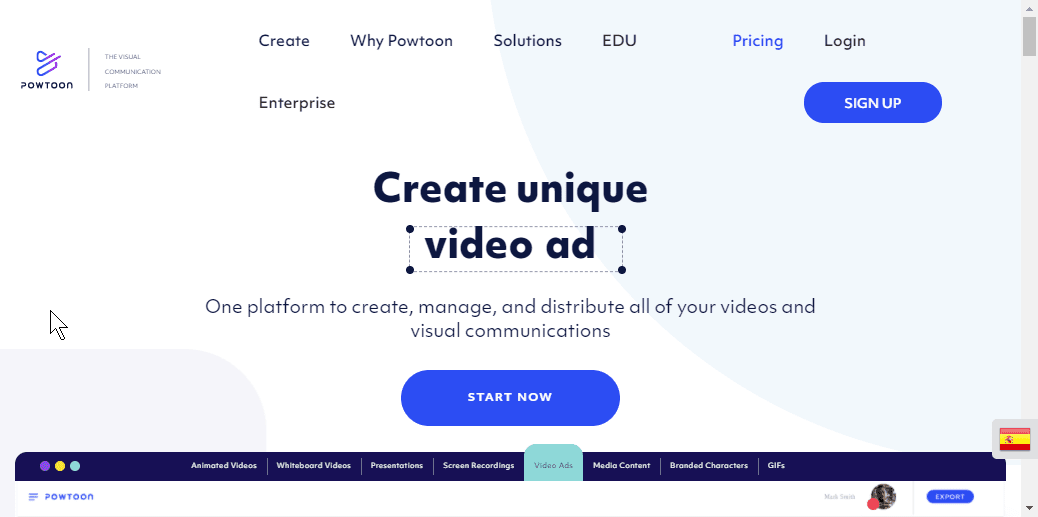 Powtoon is a visual communication tool businesses use to create animated promo videos and presentations. It is the most popular video creation platform used by Fortune 500 companies for training, internal communication, marketing, education, and remote work. One of the best qualities of the platform is that you don't need any design or technical skills to get started.  Its most notable feature is a dedicated library packed with scenes, characters, templates, soundtracks, and videos for several industries. You can also use it to integrate with YouTube, Facebook, Messenger, Hubspot, and more.
Pricing
Pro – $19 per month
Most Popular – $33 per month
Agency – $99 per month
Conclusion
These were our top 5 sites to help you make your first promo video. The promo video makers in our list are easy to use and offer unique benefits. You can check them out to see which one suits your use case best in terms of features, tools, and prices.